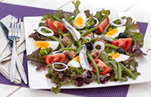 Niçoise
Salad "Niçoise" is a composed salad of tomatoes, tuna, hard-boiled eggs, beans , olives, and anchovies, roasted pepper dressed with a chive vinaigrette.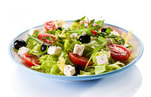 Feta
Lettuce, feta, cucumber, roasted pepper, black olives, classic vinaigrette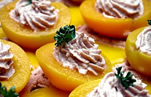 Peach+Tuna
Lettuce, carots, tomato, corn, ½ peach with sirop, tuna, chive vinaigrette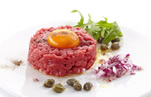 Americain garni
Beef tartare, mixed salad,oignons, capers, pikles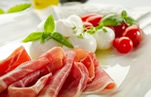 Parma ham, tomato mozzarella
Rocket salad, Parma ham, mozzarella,tomato, balsamic cream, olive oil.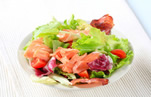 Nordic Salad
Lettuce, cress salad, smoked salmon, shrimps, chive vinaigrette.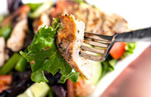 Caesar salad
Romaine lettuce and croutons dressed with parmesan cheese, grilled chicken, honey /mustard vinaigrette.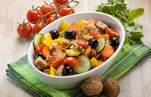 Mediterranean salad
Mixed salad, grilled vegetables, aubergines, zucchini, artichokes, dried tomato, sliced chicken, feta, olive oil.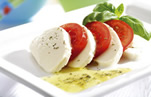 Tomato Mozza
Rocket salad, tomato, mozza, basilica, virgin olive oil.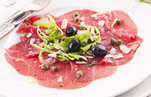 Carpaccio
Beef carpaccio, rocket salad, parmesan, basilica oil.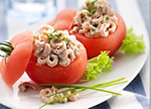 Tomato Shrimps
Mixed salad, grated carots,corn, tomato with shrimps, vinaigrette. .

Roquefort cheese+chicken+peer
Mixed salad, roasted chicken, Roquefort cheese, grilled oignons, peer sirop.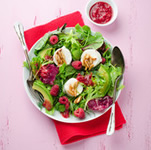 Seguin salad
Salad, rucola, goat cheese slice,apple, honey, white vinaigrette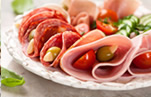 Charcuterie platter
Salad, roastbeef, pastrami, ham slice, cheeses slice, chorizo, salami, vinaigrette.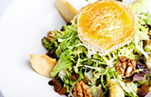 Hot goat cheese - €/pers.
Curly lettuce, dried yellow peper powder, red oignons, hot goat cheese with honey, thyme.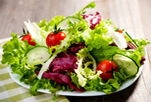 Végétarian salad
mixed salads,hard boiled egg, grated carots, corn, tomato, cucumber, vinaigrette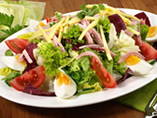 Breaktime salad
Lettuce,hard boiled egg, grated carots, corn, tomato,diced ham & cheese , parsley, chive vinaigrette.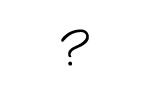 Votre composition - €/sur demande.
Contactez nous pour le prix de votre composition personnelle.